School Meals
Free School Meals and Daily Fruit and Veg for all Children
We recognise the important connection between a healthy diet and a pupil's ability to learn effectively and achieve their full potential in life and we aim to develop a positive attitude to healthy eating.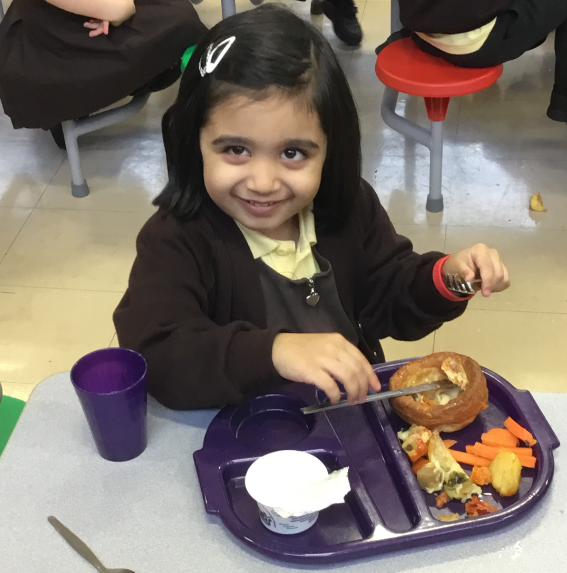 Our Catering Team
The school lunch service is provided by Surrey County Council's Twelve 15 catering team. A choice of meals is available, cooked on the premises in our modern well equipped kitchen. Our school kitchen has been awarded the highest score for food hygiene for several years running.
The seasonal menu currently offered at Crawley Ridge Infant School can be found on the Twelve15 website
Information on the quality of our school meals may be viewed at itstwelve15.co.uk
Information about allergies and special diets may be found here.
Packed Lunch
Children may bring a packed lunch to school, but we ask parents not to include any nut or nut-containing products as there may be children with serious allergies in the school at any time.
As lunch boxes are not stored in a fridge, parents are asked to pop an icepack into their child's lunch box to keep food cool. Useful guidance on healthy packed lunches can be found on the following website:
http://www.nhs.uk/Livewell/childhealth6-15/Pages/Lighterlunchboxes.aspx
Switching between school dinner and packed lunch options
If you wish your child to change from school meals to a packed lunch provided from home or vice versa, please inform the school office either in writing or by telephoning the school office on 01276 27546. Please be advised that the caterers normally require 1 week's notice of any changes.
Additional Provision
The government funds a free piece of fruit or vegetable each school day, which the children have at morning break. Parents are requested not to provide additional snacks.
Good quality drinking water is available throughout the school day at water fountains and pupils are encouraged to bring a school water bottle (details in uniform section) filled with water into school each day.