Covid-19 updates
Most people with coronavirus have at least 1 of these symptoms:
a high temperature – this means you feel hot to touch on your chest or back (you do not need to measure your temperature)
a new, continuous cough – this means coughing a lot for more than an hour, or 3 or more coughing episodes in 24 hours (if you usually have a cough, it may be worse than usual)
a loss or change to your sense of smell or taste – this means you've noticed you cannot smell or taste anything, or things smell or taste different to normal
Official updates and school information for parents and carers
School information is posted at the bottom of this page.
Please go directly to the links below for the latest advice from the NHS, Department for Education (DfE) and Public Health England (PHE).
If you or any member of your family have one or more covid symptoms
Please alert the school immediately if you or any member of your family experience Covid symptoms - or have tested positive in the case of asymptomatic Covid. If this occurs over a weekend during term time or within the first two days of a school holiday, please email school@cri.tamat.org.uk and tell us when you first became aware of Covid symptoms. This will allow us to trace any close contacts in the school community.
If you or any member of your family have Covid symptoms, or have been in contact with a case of Covid-19, you should book a PCR test and isolate at home according to current guidelines (SEE PHE 'Stay at home' guidance below).
Please note that Rapid Lateral Flow Tests should ONLY be used to detect asymptomatic cases where there are NO Covid symptoms. Any Covid symptoms must be followed up with a PCR test.
Should I send my child into school?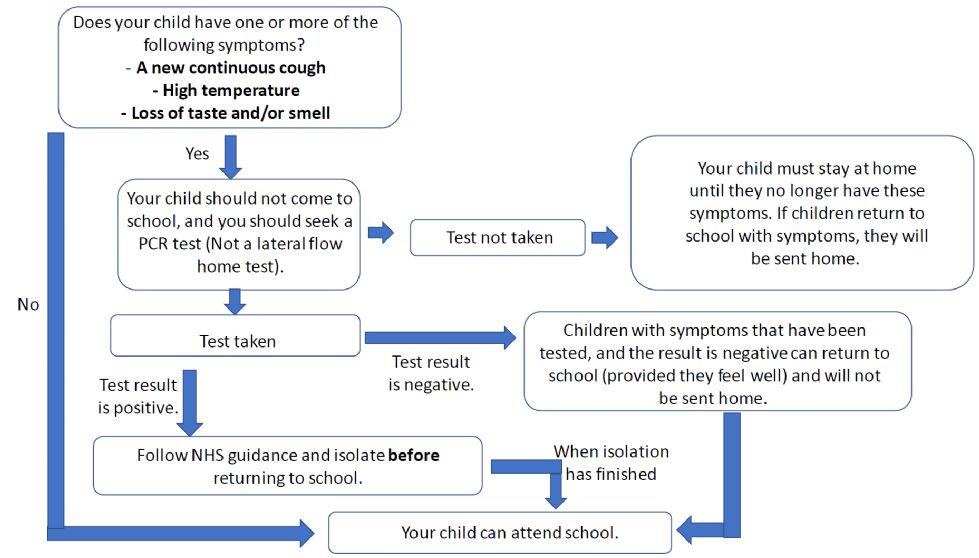 When on our school site, please:
Wear a face covering
Follow our one-way system around the school grounds when you drop off/ collect your children
Maintain a 2 metre distance from others, but keep your own children close to you – we are still operating in Year Group Bubbles during the school day, so that if we have a positive case of Covid we can avoid the need to close all classes
Do not allow your children to play on playground equipment, including the boat in the main playground at the end of the school day (we operate a strict rota system for the boat, keeping Bubbles separate)
Contacting school
If you wish to communicate with school, including to speak to your child's class teacher, please phone the school office on 01276 27546 or email school@cri.tamat.org.uk The office is staffed from 8.30 am to 3.00 pm each day; however, we ask that you call after 9.30 am unless you need to report your child's absence or to share urgent information. If the nature of your enquiry is not urgent, please call after 9.30 am. Mail intended for school should be placed in the letter box at the main entrance.
If your child is unwell or is displaying a covid symptom, such as a high temperature, and will not be attending school, please report the absence before 9.30 am by phoning the school office or by using the ParentMail absence reporting mobile app
Home learning
​​In the event that there is an unplanned for partial or full school closure (for example, due to an outbreak of covid-19) or if your child has to self-isolate, home learning will be provided. Your child's teacher will manage this situation according to the circumstances. Should you have any queries about this, please contact the school office.
Links to further information and latest advice
Public Health England
Stay at home: guidance for households with possible coronavirus (COVID-19) infection
How to request a Covid test
Apply online at https://www.gov.uk/get-coronavirus-test
DfE advice for parents and carers
What parents and carers need to know about schools, colleges and other educational settings during the coronavirus outbreak: Information for parents and carers about going back to schools, nurseries and colleges in the autumn term
NHS
The best way to wash your hands! https://www.nhs.uk/live-well/healthy-body/best-way-to-wash-your-hands/
Latest NHS information and advice about coronavirus (COVID-19)
Advice for travellers
https://www.gov.uk/guidance/coronavirus-covid-19-travel-corridors
Direct medical concerns
Contact NHS 111
DfE coronavirus (COVID-19) helpline – holiday hours
The Department for Education coronavirus (COVID-19) helpline and the PHE Advice Service (option 1) is available to answer any questions you have about coronavirus (COVID-19) relating to education settings and children's social care. 
Please listen carefully to all of the available options before selecting the most appropriate option.
Term time opening hours: 
Monday to Friday from 8am to 6pm 
Saturday and Sunday from 10am to 6pm  
---