Christmas 2021
We are delighted to share with you the wonderful Christmas activities taking place at school next month.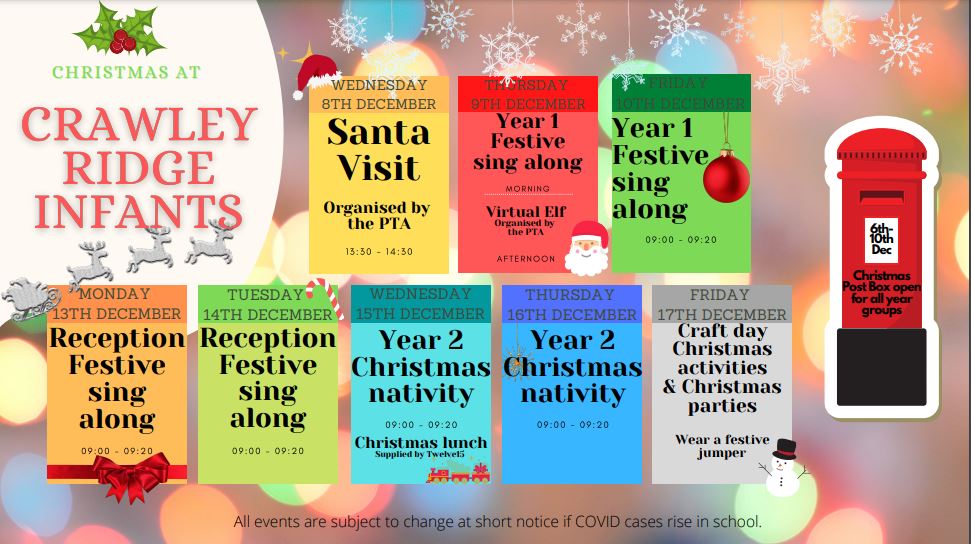 Christmas Performances
A form to request tickets has been sent on Parent Mail.
Christmas Post Box
The Christmas Post Box will be open for 1 week from 6th to 10th December for children to send Christmas cards to each other. Please ensure all cards are clearly marked with the recipient's full name and class. Please do not attach edible treats to the cards in case of allergies.
Santa Visit – Wednesday 8th December
Children are invited to wear a Christmas accessory to school if they wish – this could be a Christmas themed hat, hair accessory, socks, badge …. to be worn with all other items of school uniform. Santa will be visiting the children in the afternoon (kindly organised and funded by the PTA).
Christmas Elf Day – Thursday 9th December
We are all looking forward to a virtual visit from Santa's elves in the afternoon (kindly funded by the PTA). All children will be gifted a book to enjoy at home.
Christmas Lunch – Wednesday 15th December
All children are invited to enjoy a traditional Christmas meal. If your child usually has a packed lunch but would like to have the Christmas meal on this day, please let the office know as soon as possible and advise of any special dietary requirements as there is a form to be completed for our caterer.
Christmas Crafts – Friday 17th December - Last day of term.
The children should come to school in a festive jumper and be prepared to enjoy a fun filled Christmas craft day. Please do not feel the need to purchase a jumper; a decorated top with stickers and markers works just as well, encourage your child to help.
School finishes at 2pm. There are no clubs running after school.