Parents
This section of the website gives information for current parents. Class teachers will be adding important information for you on the relevant
Year Group pages so please refer to this area regularly
---
With many thanks to Juliet McKee for many of the lovely photographs posted on this website
---
Wednesday 21st February
We hope you all enjoyed the half term break.
We are looking forward to the signs of spring but we are aware that the forecast is for a cold spell next week. Please read our adverse weather policy which is posted for you here _Adverse Weather Policy .pdf . We do all we can to keep the school open at all times but if a decision was made to close the school at any time a message would be posted on the front page of this website. We would ask you to check before leaving school in adverse weather.
---
Please see some ideas on healthy snacks for children from Surrey CC
Healthier snacking for children
How much sugar is in a child's snack?
Do you really know how much sugar is in the average child's snack? Children across England are consuming nearly three times their daily recommended amount of sugar with half of this sugar coming from snacks and sugary drinks. Too much sugar can lead to harmful fat building up, which can develop into serious health issues as well as tooth decay. But some small changes to their diet can make a big difference.
Alternative snacks
Try healthier options by swapping biscuits, sweets and crisps for healthier snacks like fruit and vegetables, fruited malt loaf, fromage frais, popcorn, houmous or rice cakes. Look out for the Change4Life signs at selected supermarkets to find healthier options and follow this simple tip '100 calorie snacks, two a day max.'
Money-off vouchers and apps
There are money-off vouchers for healthy snacks when you sign up to the Change4Life website and a "snack pack" guide to healthier eating. There are also several apps you can download such as the 'Food Scanner' app. By scanning a bar code you can see how many calories there are in food or drinks, as well as the sugar, salt and saturated fat content. The 'Be Food Smart' app also provides recommended calorie information per serving.
If you are concerned about a child's weight and would like some advice, Alive 'N' Kicking is a local service for children aged between five and nineteen years old. The programme is designed to enable children to enjoy a healthier lifestyle. For more information visit the Alive 'N' Kicking website.
---
Charity Donations
The three charities chosen by the children to benefit from your kind donations at the Christmas Performance have written to thank the school for their money. Each charity received a generous amount of £205.15 and are all extremely grateful to you and the children.
Copies of their letters can be seen attached below.
Thank you
---
Safer Internet Day 2018 (Friday 9th February)
Today we have been exploring ways of keeping safe online with the theme 'Create, Connect, Share'. Each year group has taken part in activities which have helped them to think about who and how they connect with other people both online and offline and how to keep safe and happy. It would be great if you could continue this discussion at home by talking about what they have found out and how your child can stay safe online at home.
---
World Book Day - Thursday 1st March
Please look our for a Parent Mail today - Friday 9th February - with details on our World Book Day activities in school.
---
Change 4 Life
Your child will be bringing home a leaflet about the 'Change 4 Life' Snack Challenge. It gives suggestions of how you and your family can make healthy choices about the snacks children eat. Click on the link below to find out more information.

---
Monday 29th January
The Royal Holloway Science Festival is due to be held on Saturday 10th March. It is a fantastic opportunity to get involved in hands-on science and will truly inspire the children. Please see below for more information:
https://www.royalholloway.ac.uk/science/sciencefestival/home.aspx
---
Friday 8th December
Adverse Weather Policy: You will be aware from the weather forecast of the likely forthcoming cold weather. Please be aware of our Adverse Weather Policy at the foot of this page. In the event of ice and snow we ask parents to be aware that the playground or the paths inside school gates may be slippery. Children should come to school with suitable footwear bringing indoor shoes if they arrive in boots.
---
Wednesday 29th November
Many thanks to the parents who have sent in ribbons and buttons for our creative area. Please keep sending in any that you have spare.
If you have any shiny sweet wrappers, e.g Quality Street, Ferrero Rocher, we would be grateful to receive them, along with any other small items such as sequins that would be suitable for collages.
Thank you
---
Friday 17th November
Today the children saw a short video about the flu immunisation. The immunisation team will be in school on Monday 20th November. If you would like to see the video or discuss with your children over the weekend the link is below for you. https://www.youtube.com/watch?v=1jHWwm8NQUw
Only those children with parental permission will be given the flu immunisation on Monday. If you have any queries please contact school on Monday morning. Please note: the immunisation is given by a nasal spray as previously advised - not an injection.
---
Saturday 11th November
We have received a thank you letter for all your generous harvest gifts - they were much appreciated.
Thank you also for the donations you have sent in for the Poppy Appeal. I am sure we will hear the grand total early in 2018!
We are beginning to turn our thoughts to Christmas Events and you will be posted here, on Year Group pages or sent to you via bookbags or Parent mail over the coming weeks.
---
Tuesday 7th November
RMT proposed strike action on Wednesday 8th and Thursday 9th November may affect traffic conditions - please allow extra time to get to school.
---
Wednesday 1st November
Poppies are now on sale in school. If you would like your child to have a poppy please send in a donation in a named envelope.
Can you help? We are collecting items for our creative areas. If you have any of the following we would be pleased to receive them in the office:
empty cotton reels
buttons
ribbons
metallic paper offcuts
plastic bottle tops
Thank you for your help.
---
October 22nd 2017
We hope you all enjoy the half term break with your familes and friends. We hope you all have fun.
Do keep reading each day with your child as this will really help them to practise this important skill.
A reminder that school is closed for staff training on Monday 30th October.
Your child will have brought home their PE kit for half term. Children in KS1 will need joggers after half term as they will continue to take part in outdoor PE through the colder months. Please also check that trainers still fit.
A reminder that all children need a coat (with a hanging hook) in school everyday as we go outside in all weathers.
Please ensure that all items of uniform are named as precious teaching time is lost trying to unite clothing with owners!
We look forward to seeing you on Tuesday 31st October. Poppies will be on sale in school from 1st - 8th November.If you would like to your child to have a Poppy to wear they should bring their donations in a clearly marked envelope with their name and stating POPPY DONATION.
---
October 19th 2017 Harvest Festival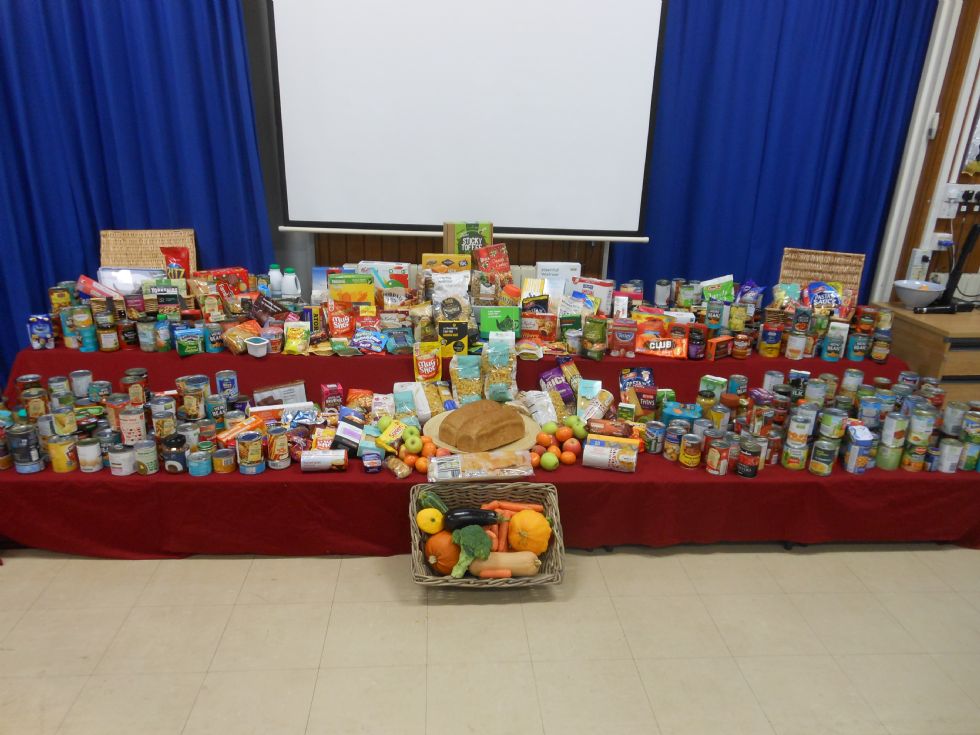 Thank you so much for your very generous donations to the Harvest Festival. The children were thrilled to see all the different foods. The produce was collected this afternoon and will be used to help those families in the locality who would really benefit from your gifts.
Today our Harvest Assembly was a lovely opportunity to help the children realise how fortunate we are and how we are able to share the good things we have with others. All classes joined together to celebrate with songs, poems, a short play, a dance, and prayers. We hope the children will tell you all about the day.
We are very grateful to Mrs Marsh's father and the team who collected the produce for delivery. Waitrose in Bagshot also kindly donated the wholemeal bread for the chilldren to share and the satsumas for the play.
---
September 25th 2017
It was good to see so many parents at the Year Group meetings. We hope you found the information useful.
Parent interveiws will be taking place during the week of October 16th and details will be sent to you via ParentMail.
---
August 30th 2017
We hope you have all enjoyed the summer break and are looking forward to the start of term on TUESDAY 5th SEPTEMBER. The start time is 8.50am for all children in KS1. Reception children have their own individual start times.
Please check this section including the Year group pages for messages, regularly.